Your Yosemite theme homepage is set up using blocks. Web Communications will help you "pin" the blocks on your homepage where you will place and edit your content.
There are different ways to configure the landing page that best suits your needs. We will consult with you to help you choose the best layout.
After we pin your blocks for content, other than the Panoramic Slideshow, News, Events or Video feed, you will open them for editing as follows:
Mouse over the upper right corner of each block until you see the cog wheel appear.
Click on Configure Block, this will open the block so you can add content. After editing your content, save and your block will update.
Site managers have the access to maintain these blocks.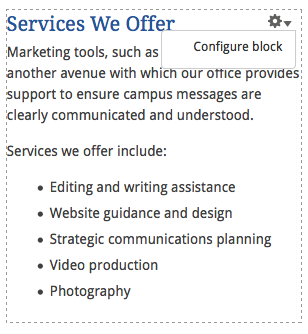 The landing page may also include the slider. 
If your landing page includes feeds for news, events, video or panoramic slideshow, those blocks will auto-populate as you add your content.
Adding news: Add Content > News (or Events, Video, Panoramic Slideshow)